We have compiled the latest & attention methods of popular YouTuber with more than 200 million total video views in one book!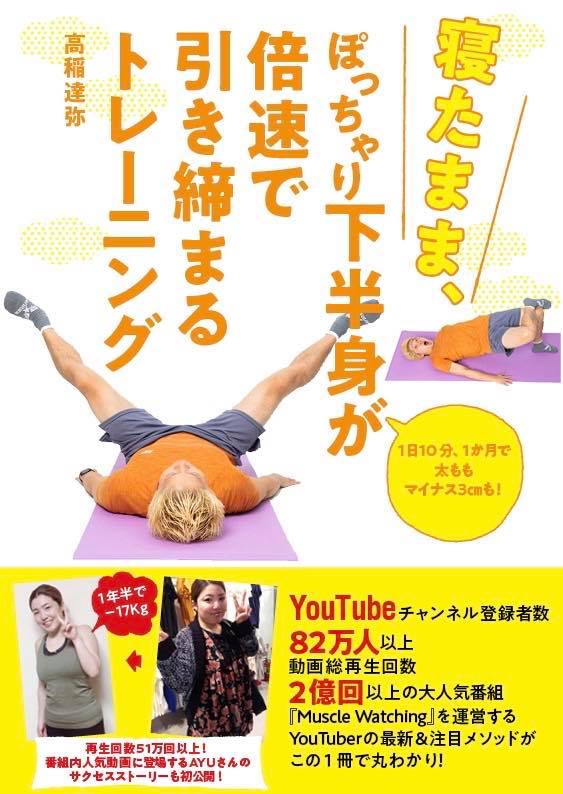 The latest work by Tatsuya Takaine, the author of the popular fitness YouTube program "MascleWatching", which proposes catchy exercises such as "Takisweat 28 minutes" and "Foot Paca" one after another and has more than 740,000 subscribers. Is here!
Proposed "10-minute training that you can do without changing your posture while lying down". A major feature is that the program structure is such that easy movements and hard movements alternate. Immediately after I thought, "It's hard … I want to stop it," the stretch-type movements that are easy and comfortable come in, so 10 minutes have passed in no time. So anyone can continue without overdoing it!
This is exactly the training content that is based on the strong feeling that Mr. Takaine has repeatedly conveyed, "If you do not continue your diet, you will never succeed." There are plenty of reading materials such as the challenge story of women who continued this training for a month and the episode of AYU who appears in the popular video that boasts more than 510,000 views in "MuscleWatching"!
This book is packed with tips for becoming a diet winner, both physically and mentally. If you read it, you will surely acquire the correct knowledge to succeed in dieting and you will be motivated to lose weight!